Coord
is the best strategy for duoing in small altars (all apart from Mind and Earth). It consists of two players standing on centre tiles on opposite sides of altar and then attracting orbs from behind each others' backs.
Here's a picture of two humans coording:
Why stand on opposite sides of each other?
The reason why it's important to stand on opposite sides of altar is because you cannot score the orbs that are behind your back (when you are facing altar) without moving spot. This is because you stand in between the altar and the orb, and you can't order the orb to go through you. So by standing on opposite sides of each other, you and your partner cover each others' blindsones: you can score the orbs that your partner cannot score without moving spot, and your partner can score the orbs that you cannot score without moving spot. This enables you as a team to score more orbs without wasting time moving positions, and it also prevents you from wasting time by trying to move the same orb.
The Centre Positions
What you see in the picture above is me standing on the
west centre tile
and my duoing partner standing on the
east centre tile
. These centre positions are important because they allow you to score many orbs without moving.
There are four centre positions: East, West, South and North. The image below shows the location of the centre positions in Air altar. The black circles are tiles where orbs can spawn.
So here's an example of why the centre position is so wonderfwl. (It's not the only reason.) In the following picture, if you stand where the smiley stands (i.e. on the west centre position), you can score all those orbs shown in the image without moving.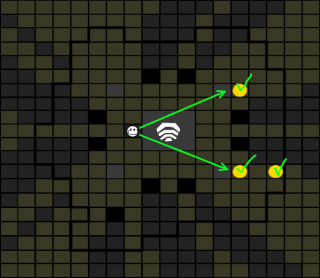 But notice how if you move away from the centre position to any of the adjacent tiles, mischief starts occurring: you can't score some of the orbs anymore!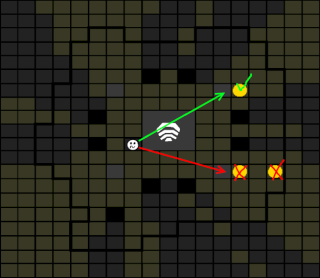 So whenever you move away from your centre position at any time, remember to return to it.
Teamwork
You and your coord partner have two different
tasklists
(i.e. spawns that you are supposed to take, and your partner is supposed to wait for you to take, and spawns that your partner is supposed to take and that you are supposed to wait for your partner to take). There are two ways an orb can be on your tasklist. Either you need to score an orb from your position, or you need to
feed
an orb to your partner from your position.
It will be easier to understand with examples. In the image below, you see the two coord partners stand on East and West centre positions. All the orbs coloured cyan are on ???? This is a stupid picture, Timo. Too complicated, and you're probably wrong about half of those orbs... You should ask Mike or Icy or something if you want it that detailed.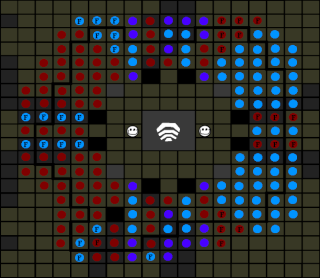 When you need to score an orb. The orb is in a spot that you can easily score from your position but your partner cannot score it without moving.

When you need to feed an orb.The orb is